Integrating VeraLab with LDAP to Simplify Student Registration and Maintain Security in Your Lab
Below diagram shows how you can integrate VeraLab with your current LDAP server. If you already maintain student records in a central LDAP directory, we can help you integrate VeraLab into your IT infrastructure. Here is the list of benefits you can enjoy:
Benefits of VeraLab LDAP Integration:
You don't need to sign in / sign out students to workstations manually anymore. A student entering the lab can simply proceed to any available workstation and log in using his/her campus ID.
If your LDAP directory stores various user attributes, e.g. alumni, student, staff, faculty, etc., VeraLab can log this information and store it in the database for future reporting and analysis.
We can further integrate VeraLab with your other databases. For example, if you have a separate Enrollment Database, VeraLab can not only authenticate students, but also validate they are enrolled this current quarter or semester.
If your LDAP directory stores expiration dates, VeraLab can display warnings to students whose status expires, for example, in one week. After a student logs into a workstation and VeraLab retrieves student record from LDAP server, a warning window will pop up on the workstation screen.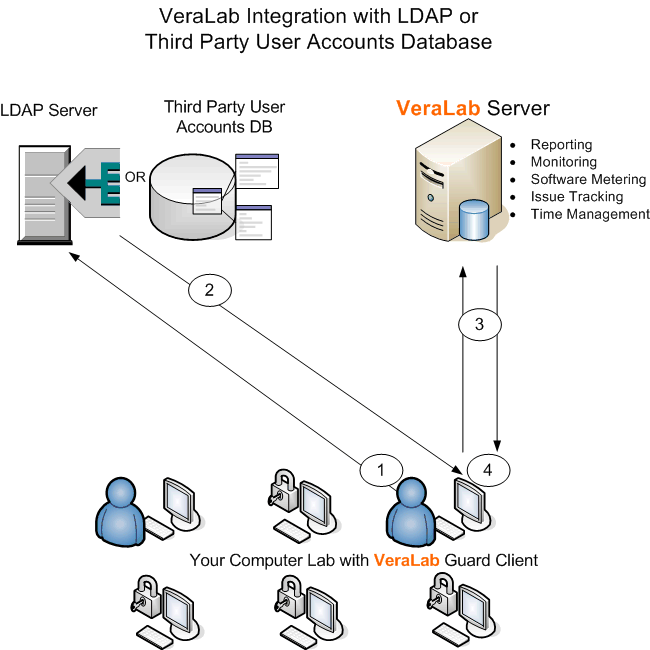 Sign On/Out Process
User logs in to a workstation running VeraLab Guard.
User gets authenticated against LDAP or User Accounts Database. If authentication is successful, screen is unlocked, otherwise a message is displayed.
VeraLab logs beginning/end of user sessions, provides control and monitoring. Successful and unsuccessful logins are stored in the database and can be used for future reporting.
User logs out or is automatically logged out (if idle session time is enabled).